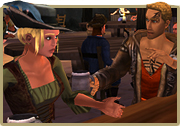 "Aye, you've got quite the salty tongue!"
We asked you to give us your best original Pirate saying and boy, did you respond! We received thousands of entries! Thanks to all our players that participated. Check out the Top Five Talk Like A Pirate Contest Winners selected and voted on by the Pirates Online Crew! The winners get their phrase put into the game as SpeedChat and will receive an official, limited edition Pirates of the Caribbean Online T-shirt with the Top Five Talk Like A Pirate sayings printed on it.
Captain Redwood - You need a sharp sword and sharper wits.
Galen Quicksteel - Ye be one doubloon short of a full hull mate!
Angel Firehawk - Watch yer tongue or I'll pickle it with sea-salt!
Gunns - May a stiff wind be at our backs, the sun on our faces and our cannons fire true!
Isis - Salty as a Kraken's kiss.
Ad blocker interference detected!
Wikia is a free-to-use site that makes money from advertising. We have a modified experience for viewers using ad blockers

Wikia is not accessible if you've made further modifications. Remove the custom ad blocker rule(s) and the page will load as expected.