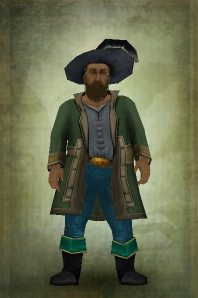 Thatch Roberts is an officer of the Marceline guild. So far, the only major appearances he has made was during the 2011 Mardi Gras Festival and in the Marceline Guild, at Your Service! event. He was also at the Victory Celebration 2011. He also took part in the Fishing with the GM's event, both the 2012 and 2013 Feats of Strength Competitions, and the Brethren Feast Weapon Giveaway.
Ships
Skill Levels
Cannon: Level 25
Sailing: Level 26
Sword: Level 30
Gun: Level 30
Voodoo Doll: Level 27
Dagger: Level 30
Grenade: Level 25
Voodoo Staff: Level 25
Potion Brewing: Level 0
Fishing: Level 10
Game Notes
Thatch may be related to the GM, Roberta Roberts, as they share the same last name.
This Game Master has an Old Body type. You can no longer create pirates with this body type.
Ad blocker interference detected!
Wikia is a free-to-use site that makes money from advertising. We have a modified experience for viewers using ad blockers

Wikia is not accessible if you've made further modifications. Remove the custom ad blocker rule(s) and the page will load as expected.