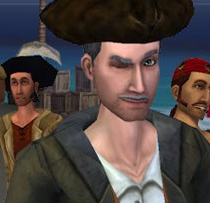 The Missing Captain Walter
was a
Game Master
hosted event revolving around the disappearance of
Captain Walter
, the then Guild Master of the
Marceline
guild. The end result was that
Captain Ezekiel Rott
boarded Walter's ship,
The Magic
, and killed him.
Captain Xavier Hench
took over the duties of the now dead Walter.
Official Release Post from Pirates Online:
"A few weeks back, Captain Walter vanished. Since then the Marceline Guild has been searching tirelessly for their beloved leader. Recently, Sandra Tew started having visions about the good captain. Her visions have led the Marceline Pirates to believe that Captain Ezekiel Rott is behind Captain Walter's disappearance. Rumor has it that Captain Rott bears a long time grudge against Captain Walter and vowed to settle the score one day. Trusting Sandra's visions, the Marceline Guild plans to interrogate Captain Ezekiel Rott. Help the Marceline Guild find the vile Captain Rott to learn the truth about where Captain Walter may be!
What: Help the Marceline Guild find Captain Rott to learn the truth about Captain Walter's whereabouts.
When: Saturday, May 15 from 2 p.m. - 3 p.m. and 5 p.m. - 6 p.m.

Sunday, May 16 from 2 p.m. - 3 p.m. and 5 p.m. - 6 p.m.
(All times are Pacific/ Los Angeles.)
Where: Find the Marceline Guild on the docks of Cuba.
The Details: You'll know the Marceline Guild by the flaming skull logo above their heads."
Ad blocker interference detected!
Wikia is a free-to-use site that makes money from advertising. We have a modified experience for viewers using ad blockers

Wikia is not accessible if you've made further modifications. Remove the custom ad blocker rule(s) and the page will load as expected.