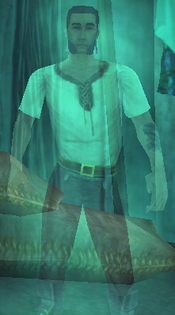 Thomas Fishmeister is a ghost citizen of Raven's Cove. He was a fisherman in his former life, and he lives in a shack near his beloved sea.
As part of the Raven's Cove quests, pirates will have to go fishing to help earn a key to a nearby mine.
By catching a Legendary Fish during his quest, you will be awarded a Bandit's Sea Globe.
Thomas's story
Thomas was the town's fisherman, people would gather around his house to bid on the biggest tuna. He is sad that the fish have gone.
Ad blocker interference detected!
Wikia is a free-to-use site that makes money from advertising. We have a modified experience for viewers using ad blockers

Wikia is not accessible if you've made further modifications. Remove the custom ad blocker rule(s) and the page will load as expected.