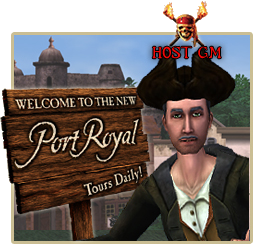 See the Town, Meet GMs. GM's hosted a tour of the brand new Port Royal after the destruction of the island. GM's hosted a similar event as this on Tortuga after its destruction and remodel. GM's took groups of pirates around Port Royal showing them the new island and all it has to offer. The GM's told players stories of the buildings and even stories of some missing townfolk who have disappeared after the destruction. GM's hosted the event on servers that started with the letter B on March 6th, 7th, and 8th from 11AM to 2PM PST.
Ad blocker interference detected!
Wikia is a free-to-use site that makes money from advertising. We have a modified experience for viewers using ad blockers

Wikia is not accessible if you've made further modifications. Remove the custom ad blocker rule(s) and the page will load as expected.