This is an Official Player's Guide from the Pirates Online Website.
All credit goes to Pirates Online. This is merely a resource guide.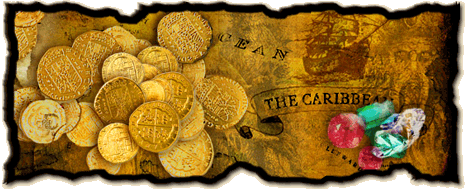 Pirates and treasure go together like ships and leaks –– can't have one without the other. Use your Inventory tab to keep track of all the trinkets you have collected during your adventures. This includes gold and cheat cards as well as treasure.
Treasure Collections
As you advance through Pirates of the Caribbean Online, you will encounter special Quests giving you the ability to pursue unique Treasure Collections. To complete each collection, you'll need to find a series of elusive items –– often held by deadly foes.
Collection

Treasures to be
found

Valuables
20
Odds & Ends
20
The Nine Rogues
9
Navy Decorations
14

Rudyard's Teeth

7

The Rhineworth Rings

11

Treasure Chess

12

Tia Dalma's Menagrie

15

Buried Treasure
Some may find some treasure buried. You can find a buried treasure by accident, or a townsperson may tell you where to look. There are chests of riches hidden all over the Caribbean, so keep an eye out for green circles on the ground. If you see one, start digging!

Game Tip:
You're vulnerable to attack while you dig for buried treasure, so stay alert.
Ad blocker interference detected!
Wikia is a free-to-use site that makes money from advertising. We have a modified experience for viewers using ad blockers

Wikia is not accessible if you've made further modifications. Remove the custom ad blocker rule(s) and the page will load as expected.