THIS ARTICLE'S WEAPON OR CLOTHING CARD IS A FAKE PLACEHOLDER THAT IS USED AS A TEMPORARY IMAGE UNTIL THE ACTUAL WEAPON/CLOTHING ITEM IS FOUND.
THE STATS ON THE CARD ARE A PREDICTION AND MAY BE INCORRECT.
IF YOU FIND THE ITEM, PLEASE UPLOAD THE CLOTHING OR WEAPON CARD.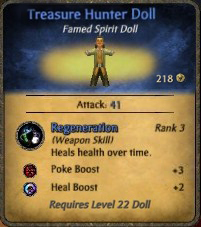 The Treasure Hunter Doll is a powerful famed spirit doll. This voodoo doll has the Regeneration ability which allows an attuned ally pirate to regenerate health over time, while also boosting the Poke and Heal skills.

Type of doll: Bane Doll, Mojo Doll, Spirit Doll
Weapon Group: Conquistador Doll Group