For new players, Pirates of the Caribbean Online offers various hints/tips as your pirate progresses along. These pop up in the bottom-right corner of the screen, above the treasure chest, and can easily be closed by clicking the "X" in the top-right corner of the scroll. You can turn them off by checking the "Dont Show" box, or they can be turned off in the options menu.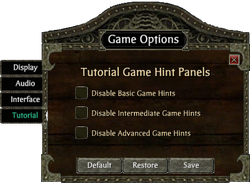 To turn off/on the hints/tutorial scrolls: First go to the Game Options Menu. (F7, etc...) Then click on the "Tutorial" Tab. Here you can individually disable or enable the three levels of Tutorial Hints: Basic, Intermediate, and Advanced.

The various Tutorial Hints are displayed below:
Basic Hints
Intermediate Hints
Advanced Hints
Potion Brewing Hints
Ad blocker interference detected!
Wikia is a free-to-use site that makes money from advertising. We have a modified experience for viewers using ad blockers

Wikia is not accessible if you've made further modifications. Remove the custom ad blocker rule(s) and the page will load as expected.