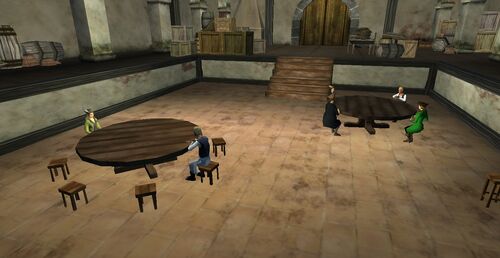 The Underground Parlor Games Center can only be accessed by going to the Lookout Menu and then clicking on Parlor Games then either Blackjack or Poker. The Underground Parlor Games consists of two tables which are a Blackjack table and Poker table. The Underground Parlor Games area is inside what seems to be a storage warehouse. Hidden from the world, the only way a pirate may leave this place is either through teleporting out or opening the door. Leaving through the door will take you back to your last port of call, however players are able to teleport back to other people inside the Underground Parlor Games. When crew members are in the Parlor, they will have playing cards next to their name on the crew members bar.
When viewing your map in the Underground Parlor, you find one island on the map, which is the picture like below. The island has the same shape as Cutthroat Isle.
Ad blocker interference detected!
Wikia is a free-to-use site that makes money from advertising. We have a modified experience for viewers using ad blockers

Wikia is not accessible if you've made further modifications. Remove the custom ad blocker rule(s) and the page will load as expected.