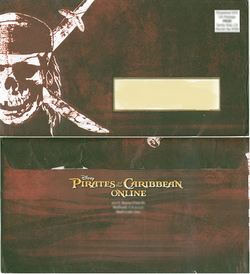 On May 6th, 2008, Pirates Online sent out an Unlmited Access Crew Kit unlimited access members containing a letter, a pamphlet which explained the skills available to the player in game along with tips and tricks, a pirate flag and two 14-Day Guest Pass for Unlimited Game Access to give out to yer ship mates. Since then, there have been many additions to the game, so some of the info might be incorrect. People who Pre-Ordered Unlimited Access received a cloth map a few months before.
Introduction Letter and Game Pass
Pamphlet
World Map
Pirate Flag
Special thanks to Kate Goldwalker for providing the photos.
Ad blocker interference detected!
Wikia is a free-to-use site that makes money from advertising. We have a modified experience for viewers using ad blockers

Wikia is not accessible if you've made further modifications. Remove the custom ad blocker rule(s) and the page will load as expected.