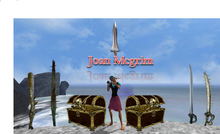 My name is Joan Mcgrim. I have played POTCO since 2008 and have loved it ever since. The first time i hit level 14, I stopped playing not knowing their were more levels. Then, 3 months later. I decided to log on. Lucky for me it was Saturday morning Unlimited Access Weekend. That weekend i went from level 14 all the way to 20. I stopped again for about 6 months this time, when i came on, their was nothing different in the game. Even though it was still the same, i got Unlimited Access and Leveled all the way to 30 in that month. Then again i stopped for a year this time. Then i log on and finally it was updating. I didnt know what their was going to be. I thought it would be new ships or more islands. The update was The Lost Weapons of El Patron. I got a Famed the first day i went on and bought Unlimited Access for a year. After this Update i have been Limited Access for only 2 weeks at most. You can find me looting in all of the severs at the main 7 bosses and rarely at Foulberto Smasho. If i am not looting, i will either be at a Tortuga or leveling my Pirates.

My Userboxes
Edit
Red Letters in My Loot
Edit
Billy Mckidd
Billy is still looking for a cursed legend. The hunt will continue until one is found.
Joan Mcgrim
Billy
Joan
Concept Art
Edit