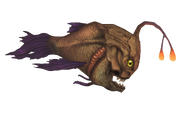 Found some cool pics of fish! These are the COOLIO ones! Instead of judging them after their released by the amount their worth, rareness, or toughness, lets judge them by their looks now. A BUETY..... nice colors for the top one's!
Which is YOUR favorite?
MEAN look'in thing!
Does HE look BIG or WHAT?
So................. the parrot for its bright red color? the BRIGHT yellow fish? perhaps the MONSTER MEGA mouth? Which is YOUR favorite? ( Mine is MEGA mouth )
Ad blocker interference detected!
Wikia is a free-to-use site that makes money from advertising. We have a modified experience for viewers using ad blockers

Wikia is not accessible if you've made further modifications. Remove the custom ad blocker rule(s) and the page will load as expected.