Copied from piratesonline.co
Posted by The Crew on Aug. 6, 2017, 10 p.m.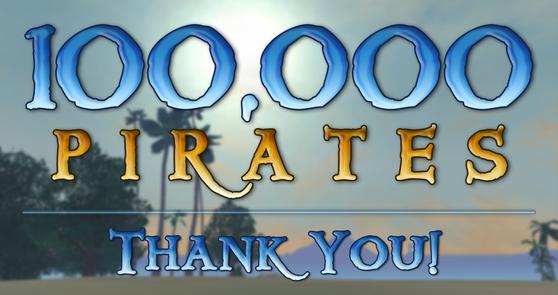 Ahoy, everyone!
Today is a very special day. A day we couldn't have even imagined in our wildest dreams. As of 9:23PM EDT on August 6th, 2017, The Legend of Pirates Online is now serving 100,000 players! This is an incredible achievement! When we first started working on this project back in late 2014, all we wanted was to return to the Caribbean, the way it used to be. We never expected so many of you to come along for the ride! Since then, our team has grown, and each of us has learned so much through this journey. We're incredibly grateful and humbled by your support!
In celebration of this milestone, we have a few surprises up our sleeves! For starters, as of TODAY, the gold cap will be raised to 300,000!
And no celebration would be complete without some redeem codes! You can claim the following items until September 6. Please note that if you redeem them with a full inventory, you will not receive the items and will be unable to redeem them again.
loyal100k for the Loyalty Bandana
cross100k for the Crossbones Bandana
skull100k for the Skull Staff
gold10k for 10,000 gold
We also have 17 exclusive TLOPO themed wallpapers for you all! You can preview and download them here .
In addition, Rosetta Zimm is once again giving out a special surprise on Port Royal. Our sources indicate that she won't be running out of stock any time soon...
Thank you again for your support! It means the world to us. See you on the High Seas!
The Crew @ The Legend of Pirates Online
Ad blocker interference detected!
Wikia is a free-to-use site that makes money from advertising. We have a modified experience for viewers using ad blockers

Wikia is not accessible if you've made further modifications. Remove the custom ad blocker rule(s) and the page will load as expected.