Copied from piratesonline.co
Posted by Sea Slasher on June 17, 2017, 8:30 p.m.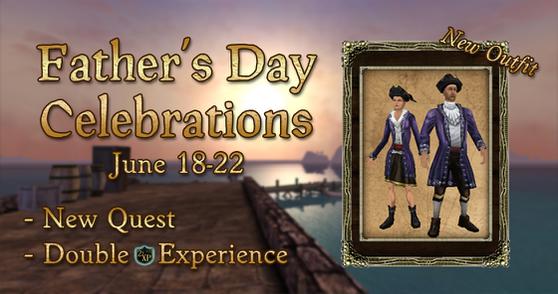 Ahoy, mates!
It certainly has been quite hectic at sea recently with all those nasty Bounty Hunters scurryin' about! Some of the most fearless and legendary pirates have become wary of these here waters…
Even Jack Sparrow's own father, the infamous Captain Teague, has gone missing! Jack be needin' yer help to find him! Startin' tomorrow, June 18th, ye can visit Jack Sparrow in the Rowdy Rooster tavern on Port Royal to embark on a special quest. If ye succeed and find Teague, ye'll be rewarded with a Double Experience boost for 3 hours! Once ye have the boost, ye can check its timer by typing /x2 in chat. And no need to worry! If ye log out, the timer will stop and ye can pick back up where ye left off.
Also, as a special treat, Peddlers on the main islands will be sellin' a special new outfit – but look alive, mates! This ensemble won't be there fer long…
Ye have until June 22nd to purchase yer Father's Day wares and complete Jack's quest. Hope to see ye there when the festivities begin!

Fair winds!
Ad blocker interference detected!
Wikia is a free-to-use site that makes money from advertising. We have a modified experience for viewers using ad blockers

Wikia is not accessible if you've made further modifications. Remove the custom ad blocker rule(s) and the page will load as expected.