Copied from piratesonline.co
Posted by Monger Morton on Feb. 4, 2017, 1 p.m.
Ahoy there,
Me mate Peddler Phillip be tellin' me ye all liked last month's little addition, Royal Commodore. Well mates, we got another classic comin' yer way for the month of February: Spanish Adventurer.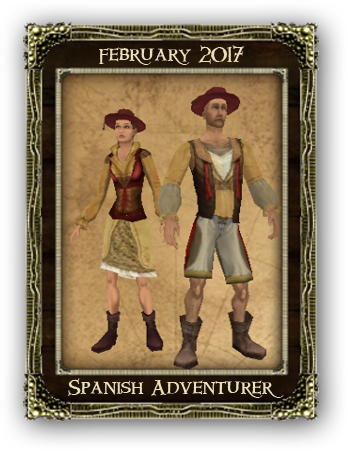 I grabbed this fine piece o' cloth off a ship docked at Isla de la Avaricia. Ol' Garcia and his crew were too busy havin' a jolly ol' time in the taverns to notice these clothes get... lost.
Thanks for bein' returnin' customers, mateys, even though we slightly overcharge ye... heh heh. We admit it. We won't stop though, we Peddlers are shameless!
Ye can purchase Spanish Adventurer at any of our stands until March 31st. Last month's outfit, Royal Commodore, will be available until February 28th, so ye best grab it fast! Also, we'll be havin' some... "romantic garb" for sale later this month, savvy? So ye best stay tuned for that!
Until next month... fair winds!
Ad blocker interference detected!
Wikia is a free-to-use site that makes money from advertising. We have a modified experience for viewers using ad blockers

Wikia is not accessible if you've made further modifications. Remove the custom ad blocker rule(s) and the page will load as expected.