Copied from piratesonline.co
Posted by Peddler Phillip on June 3, 2017, 8 p.m.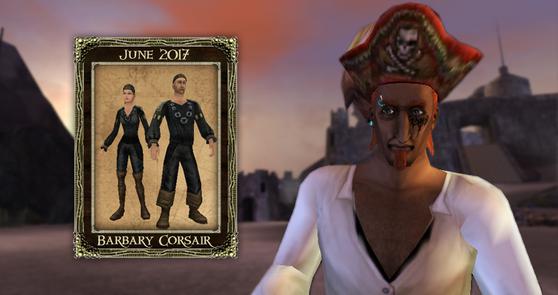 Ahoy, mates!
It be I, Peddler Phillip, back with another fancy new outfit for ye this month: Barbary Corsair. Some pirates from the Barbary Coast paid a visit to Padres last week, and let's just say that they were kind enough to "donate" these fine wares.
Much to me surprise, the Barbary Corsairs don't cut hair at all! Shockin', eh? And get this! They aren't even barbarians! They be the some of the nicest most polite pirates I ever met! I almost felt bad stealin' from 'em… almost.
Hope ye enjoy this new outfit, mates. As per usual, it'll cost ye an arm and a leg. We Peddlers be shameless! Don't forget to pick up our other outfit, Scourge of the Seas, by June 30th! We only have a few left in stock, mates!
Oh, and some other pirates have let me know that ye only have one more day to redeem the codes gold10k, loyalty, and skull, as they expire after June 4th. Not sure why ye'd want that Loyalty Bandana when ye can just waltz on over here and get a full outfit, though…
Also, if ye know what's good for ye, don't visit Rosetta Zimm! That wicked lass be stealin' our business by handin' out free goods. Disgusts me. No good pirate should be handin' anythin' away for free!
Anyway, until next month, mates...

Fair winds,
Peddler Phillip
Ad blocker interference detected!
Wikia is a free-to-use site that makes money from advertising. We have a modified experience for viewers using ad blockers

Wikia is not accessible if you've made further modifications. Remove the custom ad blocker rule(s) and the page will load as expected.