Copied from piratesonline.co
Posted by The Storyline Team on April 1, 2017, 1:30 a.m.
Hello, everyone!
We're back here once again for another chapter in the "On the Horizon" series, where you can learn all there is to know about our upcoming content!
Last month, we announced stunning new details about Isla Escondida. Well, this month, we're excited to reveal that we'll be completely overhauling Raven's Cove! Amazing, right? Whoever said "If it ain't broke, don't fix it." was crazy!
We hinted at this update a little bit in our last Developer Stream, but we're SO excited to finally introduce it to you. Take a look below for the EXCLUSIVE first image of the new and improved Raven's Cove!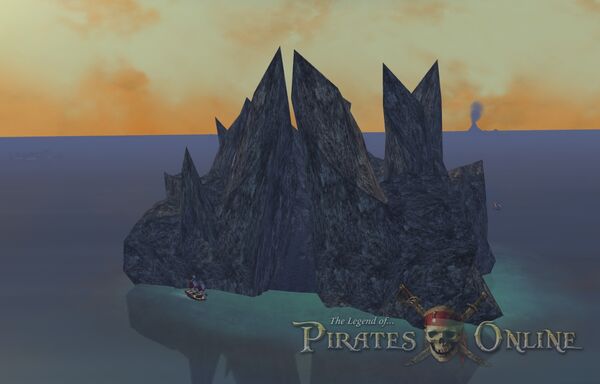 Isn't it just AMAZING? We thought the old Raven's Cove was a bit too big, so we whittled it down a bit! And we've listened to your feedback as well! We know you all hate those pesky Rage Ghosts, so they'll be completely gone! Why would you need them when you have an island as spectacular as THIS?!
Oh, and don't worry about those pesky little quests or NPCs. So annoying. They've been removed too! It'll really help reduce the lag.
Cursed Blades have been a highly requested feature, and we're excited to announce that they'll be coming with the overhaul! Since they're everyone's favorite swords, we figured, why not make them more accessible? Very soon, all Cursed Blades will be crude and will require just sword level 2 to wield! How amazing is that?!?! No need to thank us!
My my! We almost forgot! Just one more thing before we head off….

Did we get you?! Was the screenshot convincing? Shoutout to Content Developer Jack Scurvyfoote for making the model for the prank island!
Just to be clear, mates, Raven's Cove isn't going anywhere. The quest and Cursed Blades are still in development! We do have a small twist all our own planned for the very beginning of the quest. The rest of it will remain intact, we promise. You'll see how it connects all in due time…
In the meantime, we wanted to thank you for your continued support during our maintenance. We hope to see you back in the Caribbean very soon!
The Storyline Team @ TLOPO
Ad blocker interference detected!
Wikia is a free-to-use site that makes money from advertising. We have a modified experience for viewers using ad blockers

Wikia is not accessible if you've made further modifications. Remove the custom ad blocker rule(s) and the page will load as expected.