Copied from piratesonline.co
Posted by The Crew on April 25, 2017, 5:30 p.m.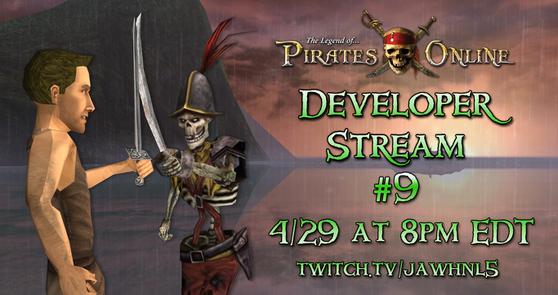 Ahoy, everyone!
From the looks of it, the community has been itching for any word as to when The Crew will be announcing the details regarding the development of our progress during our extended server maintenance.
About a month or so ago, you watched Developer Stream #8, which gave the synopsis of the current update, as well as several sneak peeks. Since then, our Storyline Team has been busy churning out intriguing excerpts and tales, enough to make even the smartest pirates scratch their heads.
It is our pleasure to announce that we will be finally giving some semblance to all of this mystery, as well as a progress update to how we have been faring through polishing up the game.
We will be hosting our 9th Developer Stream on Saturday, April 29 at 8PM EDT. Mosey on over to Developer John Cote's Twitch channel to watch the show and participate in all of the lovely goodness surrounding this update. We hope to engage each and every one of you and answer a lot of the burning questions you have for us!
We hope to see you there! Seriously, you won't want to miss this. There's a lot in store for this stream - even a few surprises you definitely won't be expecting.
Fair winds, mates!

The Crew @ TLOPO
Ad blocker interference detected!
Wikia is a free-to-use site that makes money from advertising. We have a modified experience for viewers using ad blockers

Wikia is not accessible if you've made further modifications. Remove the custom ad blocker rule(s) and the page will load as expected.