Celebrate the upcoming winter festival looking yer regal best in the Peddler's all-new set of finery for December: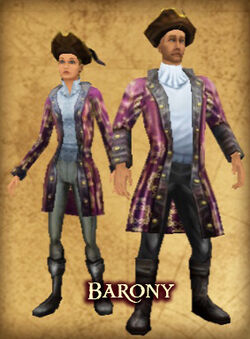 Barony
Starting December 1, seek out yer local Peddler on Port Royal, Tortuga, Padres del Fuego, and Cuba to suit up in this newest noble gear, as well as last month's The Diplomat, both available for a limited time.
Need some extra coin for this fine garb?
Make sure you redeem this code for 5,000 gold coins today:
CINQO
This weekend is yer last chance, mates – the code expires Monday, December 3, 2012
Click here to learn how to redeem codes in-game.
---
Click here for the full list of items in this peddler set, their item rarity, prices, and more!
For a full list of all peddler sets, and other clothing items, click here.
Ad blocker interference detected!
Wikia is a free-to-use site that makes money from advertising. We have a modified experience for viewers using ad blockers

Wikia is not accessible if you've made further modifications. Remove the custom ad blocker rule(s) and the page will load as expected.