Many Pirates feelin' the cool tradewinds have sailed into the spirit of the winter season, and made some cheerful changes around the islands! Shops and ports have been made merry with colorful wreaths, stockings, holly, and other delights.
The beaches themselves have been adorned with
savvy Sandmen
crafted with care to resemble certain famous (infamous?) scoundrels ye may know well.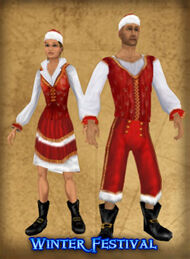 Find yer favorite sandy scoundrel to pose with in portrait, wearing the Peddlers' special holiday garb:

Winter Festival
There's no better season to celebrate with yer Guild and best mates! Gather 'round at your favorite local tavern for a spot of warmth, and compare yer loot while enjoying the musicians' special holiday songs.
If the ruckus of the Rowdy Rooster is not enough racket for you, make yer merriment heard all the way to Davy Jones' Locker with the noisemaker emote: /noisemaker

What: Winter Festival
When: December 7 through January 6
Where: Throughout the Caribbean
---
For a list of all Peddler Outfits, click here.
For more info on the Winter Festival Holiday, click here.
Ad blocker interference detected!
Wikia is a free-to-use site that makes money from advertising. We have a modified experience for viewers using ad blockers

Wikia is not accessible if you've made further modifications. Remove the custom ad blocker rule(s) and the page will load as expected.