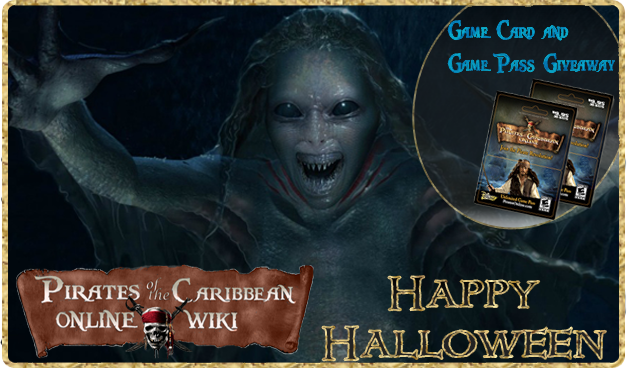 Happy Halloween Everyone! Every year around this time, Jolly Roger's curse plagues the Caribbean. But this year, it has spread to the wiki too! Ye can see many visual changes to the wiki as a result of the curse. Flames and orange fog have taken over the wiki, and it seems they will be staying until Jolly's curse wanes.
In the game, lots of nefarious events are afoot. Stronger, more frequent Invasions of the main islands seem to be appearing. Also, the classic Curse of the Muertos Moon is popping up suddenly, turning all pirates undead, thus causing a huge-scale PvP battle all over the islands!
Earlier this month, our friendly Ghost GMs were kind enough to pass along special weapons to pirates during a weekend event. We may even see more events later this month, if the GMs allow...
Also, be sure to pick up the Special 5th Anniversary Collector's Outfits in the coming weeks. To celebrate the 5th Anniversary of POTCO, the developers are releasing 1 new outfit each week in addition to the monthly October outfit, Raven's Cove Mercenary. Last week we were introduced to Bounty Hunter, and in the coming weeks we will be seeing even more outfits such as Barbary Corsair, Scourge of the Seas, Sea Serpent and China Seas Warrior. Plus, as a finale at the end of the month, the popular Garb of the Undead will be released!

The 5th Anniversary of POTCO draws near on October 31st. What are your most memorable moments in the game these past 5 years? Share in the comments below!
---
POTCO Wiki Presents... A Halloween Giveaway!
YOU Could Win Unlimited Access!
As a special Halloween & 5th Anniversary gift, POTCO Wiki is having an Unlimited Access Giveaway!
Here are the prizes:
Grand Prize: TWO Months of Unlimited Access.
Winner's Loot: One Month of Unlimited Access
Runner Up: 2 Week Starter Game Pass. Note: This prize is only valid if your account has not previously enjoyed membership.
Signup Rules and Requirements
To enter the giveaway, all you have to do is submit an original SCARY screenshot or original spooky quote in the comment section below. For more information on how to take screenshots, click here. To upload a photo to the wiki, you can use the add photo button in the comment section.
You DO NOT have to have an account on the wiki to enter. However, you have to have an account to upload a screenshot.
If you attempt to add more than one entry, your Account or IP Address will be banned from the wiki for 1 month.
Contest ends October 31st at 12:00am EST.
If you have any questions, contact Dentface by clicking here, or leaving a comment below.
Good luck everyone, and Happy Halloween!
Ad blocker interference detected!
Wikia is a free-to-use site that makes money from advertising. We have a modified experience for viewers using ad blockers

Wikia is not accessible if you've made further modifications. Remove the custom ad blocker rule(s) and the page will load as expected.