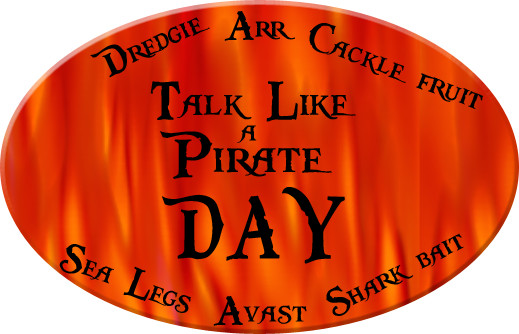 Ahoy Mates! And happy Talk Like a Pirate Day!
Talk Like a Pirate Day is an international holiday where you (obviously) talk like a pirate for a full 24 hours!
For more information on the holiday, be sure to visit the Talk Like a Pirate Day Website!
We also have a variety of pages dedicated to Pirate Speak and Pirate Culture, be sure to check them out below!
---
Pirate Speak Hub
Drinking
Expressions
Food
Ships
Ship Parts

---

Also, don't forget to enter the new POTCO Contest on their website, here.

Fair winds and happy sailing mates!
Ad blocker interference detected!
Wikia is a free-to-use site that makes money from advertising. We have a modified experience for viewers using ad blockers

Wikia is not accessible if you've made further modifications. Remove the custom ad blocker rule(s) and the page will load as expected.