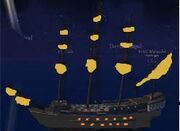 A War Legend is a mighty
ship
that survived many wars it fought.It can be a
PvP
.
Note: War Legends can also be famous pirates.
Ships
WARNING!THESE SHIPS DON'T ACTUALLY EXIST IN THE POTCO GAME!!!!!IF POTCO MAKES THEM EXIST, THEN GREAT!!!!!!
1: The Golden Maelstrom:a Ship of the Line that is only captained by a sailor with great skill and knowledge of the sea.
2: The Ostrich:a frigate fast enough to match Speedy Lou, too fast for The Black Pearl!
3: The Red Dragon's Revenge:a Ship of the Line that is captained by a Chinese pirate who takes revenge on other pirates for destroying the temples of the Red Dragon.
'4: The Plague:a Navy Ship of the Line that has sails that are only brown',not red.
5: The Scoundrel Hunter:another Navy Ship of the Line that has black sails instead of red.Although the captain is under the coomand of Jolly Roger, but he's not undead.
Gallery of The War Legends
Ad blocker interference detected!
Wikia is a free-to-use site that makes money from advertising. We have a modified experience for viewers using ad blockers

Wikia is not accessible if you've made further modifications. Remove the custom ad blocker rule(s) and the page will load as expected.