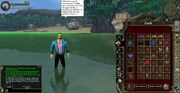 Hello Pirates I just wanted to share my bright collection with u I currently have 17 brights lvl 37 Paul
Brights in general
I know I dont have the best inventory of brights but its ok I guess. The trick to looting with brights is basically attacking enemies that you can kill in a few shots in groups such as spineskull room, back of rats nest and catacombs grenadiers/ slashers room. I love playing pirates I have been playing for 5 years my main pirate is Davy Dark Morgan so in total probably 40 brights not alot compare to most but its ok I guess. I hang out with people like O'Legend and that and we love to have friends with us so im usually on Legassa, Exuma, Monada, Angassa, Vachira and Monada is where I tipically get alot of good loot
Bright jackets
Bright jackets are different now I got my bright blue jacket in tormenta spineskull room angassa but that was VERY lucky but most of my friends such as jack storm walker etc go to Tomas Blanco at cutthroat isle. Jack storm walker has 6 legendary and 5 bright jackets and my friend O'Legend and Charles war monk also get most bright jackets from Tomas Blanco and thats the trick with bright jackets I guess. Hope u like my first post!
Ad blocker interference detected!
Wikia is a free-to-use site that makes money from advertising. We have a modified experience for viewers using ad blockers

Wikia is not accessible if you've made further modifications. Remove the custom ad blocker rule(s) and the page will load as expected.