Hello again mates,
OK ye know how many people have entered the "Strike Yer Colors Contest" ? Well I wanted to enter but I was too late to do so. Anyway, I sent the POTCO group a suggestion for my emblem and I'll be submitting it to them soon.
Anyway, here's my emblem. i figured that I'd show it to you. It's called "Death of the Seas"
Here it is: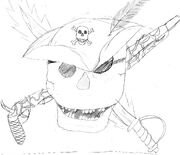 Ad blocker interference detected!
Wikia is a free-to-use site that makes money from advertising. We have a modified experience for viewers using ad blockers

Wikia is not accessible if you've made further modifications. Remove the custom ad blocker rule(s) and the page will load as expected.