My friend, Roger Sunmonk (aka Rockfan on the wiki) has attempted to steal my account. He teleported to me and said your my best friend. I said Ok? Then told me,that his father works for the game, and that he knew a glitch to get a legendary in 1 to 2 days. So i told him, okay them, show me how. He said, go on wiki private chat. So i went on as he told me.
Look at the following photos of the chat. Go look at them from top to bottom to read the chat in the correct order.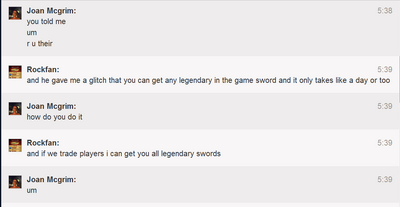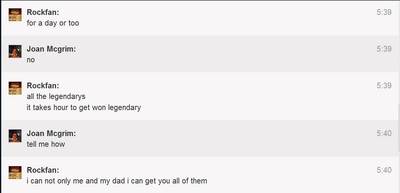 I believe this was an attempt to steal my account, do you?
I have also found he put this blog, maybe to make people think he really does. It is a brag blog making him look cocky. http://piratesonline.wikia.com/wiki/User_blog:Rockfan/i_have_all_lenegarys_in_the_game_yes
Ad blocker interference detected!
Wikia is a free-to-use site that makes money from advertising. We have a modified experience for viewers using ad blockers

Wikia is not accessible if you've made further modifications. Remove the custom ad blocker rule(s) and the page will load as expected.