The results for the contest are incorrect.
Please write to POTCO about this error.
memberservices@piratesonline.com
Today, the winners of the Sink The Most Navy Ships competition were revealed.

Congratulations to the winners of our Sink the Most Navy Ships weekend event!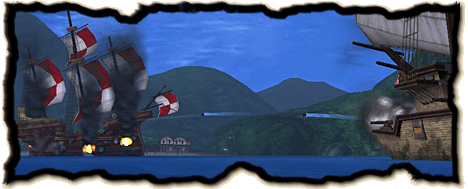 Scores of seafaring scoundrels made certain the Navy saw red this past weekend, with much of the Royal fleet now reportin' for duty at Davy Jones' Locker. We've seen a thing or two at sea we have, and tell ye true, these are some truly impressive tallies, mates!
Judging by these three-day totals, Norrington's Spyglass has been well-earned to be sure:
All winners, check your e-mail this weekend for your spyglass prizes and instructions on how to redeem your Legendary loot in-game.
The top 15 Pirates with the most Navy ships sunk also win 2-weeks of complimentary Unlimited Access!
If your winning Pirate is Basic, your 2-weeks Unlimited Access time begins around noon (PST) this Sunday, April 28, 2013.
If your winning Pirate currently enjoys Unlimited Access, the complimentary 2 weeks are added onto the end of your existing Membership. Keep in mind, this bumps your regular billing date by two weeks.
NOTE: The Unlimited Access is applied to the Pirate's account who took part in the event. Please see your e-mail for details.
Our hearty thanks to ALL Pirates who courageously cleared our waterways
of those bothersome Royal Navy!
---
As per the norm, Norrington's Spyglass now has a Userbox:

To learn how to equip this userbox and others, click here.
In addition, the All Legendaries Userbox has been updated to include the new spyglass.
Ad blocker interference detected!
Wikia is a free-to-use site that makes money from advertising. We have a modified experience for viewers using ad blockers

Wikia is not accessible if you've made further modifications. Remove the custom ad blocker rule(s) and the page will load as expected.