Posted by The Crew on Dec. 10, 2016, noon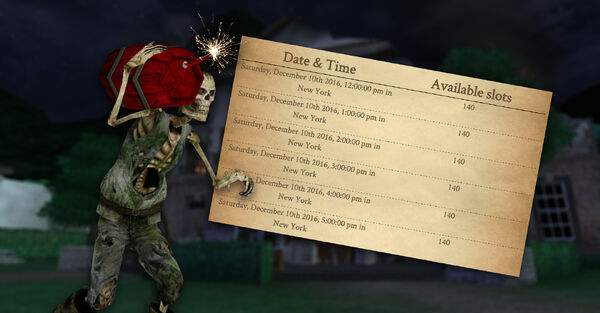 Ahoy everyone!
The Crew was astounded yesterday at the sheer amount of pirates that set sail in the Caribbean. The seas, far and wide, were packed with ships. Joyful chatter added to the lively atmosphere. The pirating spirit was reinvigorated once again!
To show our gratitude and give thanks to the community for such an immense turnout, we have decided to hold a Double Slot Weekend! We have expanded PlayTime slots for Saturday, 12/10 and Sunday, 12/11 to not 80, not 100, not 120... but to 140 slots! If you haven't had a chance yet, make sure to reserve a PlayTime and get out there - the oceans are going to be packed full of smiling faces!
Again, thank you all from the bottom of our hearts. You - the community - give us purpose and made this project the success that it is. We hope to see you on the water this weekend!
Cheers, mates.

The Crew @ TLOPO
Ad blocker interference detected!
Wikia is a free-to-use site that makes money from advertising. We have a modified experience for viewers using ad blockers

Wikia is not accessible if you've made further modifications. Remove the custom ad blocker rule(s) and the page will load as expected.