now im a beginer of potco im lvl 4 and my name is rachel stormbonnet anyways im making a guild im going to name it deafeet jolly roger or deafeet jolly!!!!!! now there is some rules to my guild!
rule 1. never never be nasty cheeky or bad in the guild chat
rule 2. now bad launge
rule 3. people become officer at lvl 10 and over
rule 4. veterans are made at lvl 5
rule 5. member are made a 1 2 3 4
rule 6.enjoy your self!!!!!!!!!!!!!!!!
now my guild is a good and every saturday or sundy we shall go looting and sailing all together but on monday thuesday wednesday thursday and friday you can do what to like  ok!!!!!!!!!!!!
write more next time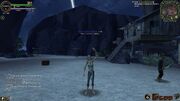 Ad blocker interference detected!
Wikia is a free-to-use site that makes money from advertising. We have a modified experience for viewers using ad blockers

Wikia is not accessible if you've made further modifications. Remove the custom ad blocker rule(s) and the page will load as expected.