One Easter Eve, a cold figure walked iinto the Mega-Mart. His bony hands had fear all over them, and his eyeless sockets had death circling it. His ears stood high, as he walked in... it was the Easter Bunny! As he walked in, the crowds hid in the aisles, as the Bunny stepped in to the middle. A little girl walked in the store, as her breath was shown through the coldness. Easter Bunny looked down at her, expecting a huge offer. The girl said, with a shutter, "H-h-hi sir..." The bunny went to a straight position, and put his hand on the little girl's shoulder. His bony jaw opened. "Why ello' there miss! Welcome to the Mega Mart! Hoppy Easter! Egg-stra special savings on all easter items with a whopping 70% off!" The girl got a familiar look. "Dont I know you from Pirates Online?" The bunny said, "Yes! Have I threatened you before?" The girl facepalmed. "You've threatened the entire Caribbean, and, supposing this is your Easter Part Time Job, you do know that there's a padres invasion going on, right?" Jolly's face cracked.
AT THE INVASION
The Undead Spanish Capitan lead the skeletons onto the shore. A lone newbee stood, trying to test his skills. The newbee did the smallest strike ever, and the skeletons all exploded.
HAPPY EASTER, TO ONE AND ALL! ~~ Credit for the bunny picture goes to John Foulroberts~~

21:46, April 7, 2012 (UTC)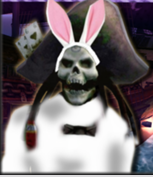 Ad blocker interference detected!
Wikia is a free-to-use site that makes money from advertising. We have a modified experience for viewers using ad blockers

Wikia is not accessible if you've made further modifications. Remove the custom ad blocker rule(s) and the page will load as expected.