Ah, Valentine's Day texturing. The best way for pirates to dress for Valentine's Day, but lets not completely forget about the Valentine's Day fashion, also known as Valentine's Day Outfit given by the Peddlers.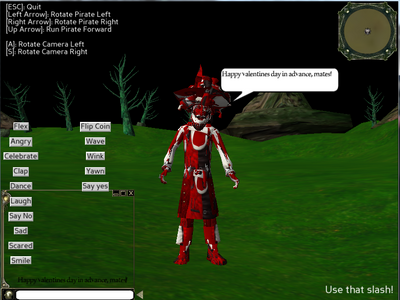 Unlike yesterday, why not we give the colors to the male and female lads for Day Valentine's- errr.. Valentine's Day. About that too, whether Gleamings is somewhat the construction worker or not, I hear he is forgetting about constructing things and instead get ready for Valentine's Day. Sorry fellas, but I guess that calls for no handy-dandy construction worker. :( Although this is great progress, so we will soon have more clothing updates to come!
By the way, sorry for another post delay! But like they always say, don't you just love delays? Hmph, I think I do. Oh well. Enjoy the update, mates!
Downloads: Sorry! No downloads today nor for the next few days. Be sure to keep checking what we're doing, though! 

Fixes:
Newly Added:
Look through that Spyglass in the Crows Nest for some more alpha updates updates!
Ad blocker interference detected!
Wikia is a free-to-use site that makes money from advertising. We have a modified experience for viewers using ad blockers

Wikia is not accessible if you've made further modifications. Remove the custom ad blocker rule(s) and the page will load as expected.