Jack Sparrow's father Captain Teague always has wise words to share with his Pirate son: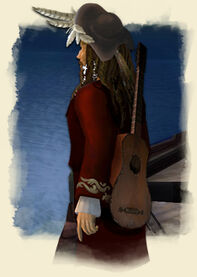 "It's not just about living forever, Jackie. The trick is living with yourself forever."

"Don't be a fool, Jackie. The Fountain will test you."

"You're in my way, boy."
But now Captain Teague has gone missing and Jack needs your help to find his misplaced dad and give him a message. Visit Jack Sparrow in the Rowdy Rooster Tavern on Port Royal to lend a hand and begin the Father's Day Quest.
In addition to the other Quest rewards, you'll get Double Reputation points for helping!

This Quest is available to both Basic and Unlimited Players.
What: Father's Day Quest
When: June 13 to June 20
Where: Rowdy Rooster Tavern on Port Royal
Ad blocker interference detected!
Wikia is a free-to-use site that makes money from advertising. We have a modified experience for viewers using ad blockers

Wikia is not accessible if you've made further modifications. Remove the custom ad blocker rule(s) and the page will load as expected.