This is a Daily Alpha Update. Developers release them every day, and this is the one for 27/01/2014 or 01/27/2014 depending on the location.
Ahoy, fellow pirates and privateers! Today is Major Monday! Why? Everyone doesn't like their Mondays, so I thought to do a little more of a major daily alpha update today to liven up your day! So Jack, what is it? Is it a launcher where the password isn't secret? Oh no it isn't, and congratulations to you scallywags who managed to cipher out that little question of mine... of course the password was secret! Anyway, I'm going off task much like any pirate. So no, it isn't another launcher, it's not grey at all! It's only got a hint of grey when an invasion comes to this place of the Navy!
Navy? So what could it be? Seafaring? Sinking a Navy ship? Nay mates, better than that. A whole island of Navy strolling across it, a place that the pirates have to start at. If you haven't guessed already, then I'll just say it, shall I? Port Royal. Yes, much like our Savvy Saturday update around Tortuga, you can now teleport from the island to Port Royal! We even added the teleportation animation! Bring back memories? You bet! And if not then be ready to stroll around a couple of tailor shops, blacksmiths and Fort Charles itself (coming soon to Pirates Online Rewritten). Now enough talk from me, a pirate be simple with his/her words and there are limits! So to the picture, the Major Monday picture! Enjoy mates!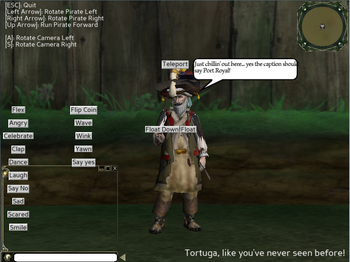 Downloads: Make your life easier and just run the installer! Click Here!
OR:
Once downloaded, in the area where you have downloaded, click on the shortcut sign. Make sure that the location says that it is going to wherever you placed it/game. It automatically comes up with C:/Players_Update/game, so make sure it is pointing in the right direction!
To download, click Here!
Fixes:
Newly Added:
Teleportation Animation & Running around Port Royal
Look through that Spyglass in the Crows Nest for some more alpha updates updates!
Ad blocker interference detected!
Wikia is a free-to-use site that makes money from advertising. We have a modified experience for viewers using ad blockers

Wikia is not accessible if you've made further modifications. Remove the custom ad blocker rule(s) and the page will load as expected.