This is a Daily Alpha Update. Developers release them every day, and this is the one for 10/01/2014 or 01/10/2014 depending on the location.
You may have thought you've seen the best of the islands this week. Well I must admit, I agree and this is the best way to end the week of Daily Alpha Updates with a splendid island. It's probably the most lagged up, wonderful and piratey islands of them all - Tortuga. Famous in the films, but also for the parlor games you can play: Tortuga Poker and a little bit o' Blackjack if yer feeling lucky. This place is also home to the infamous Captain Jack Sparrow, a figure you'll be seeing more of in this game.
Tortuga, Tortuga, Tortuga... a picture can be described in 1000 words, but Tortuga would be described in a million! Famous also for the Faithful Bride tavern, where Joshamee Gibbs likes to sit and wait to make larger crew. However the docks are pirate paradises, and they haven't changed a bit! Many a pirate (if not all) in Pirates of the Caribbean Online has visited the place, and quite right too. Don't forget to pop by at General Hex for a little fight, but don't get knocked out!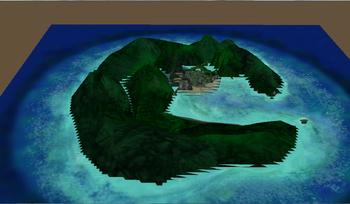 Downloads: Once downloaded, in the area where you have downloaded, click on the shortcut sign. Make sure that the location says that it is going to wherever you placed it/game. It automatically comes up with C:/Tortuga/game, so make sure it is pointing in the right direction!
To download, click Here!
Fixes:
Newly Added:
Look through that Spyglass in the Crows Nest for some more alpha updates!
Ad blocker interference detected!
Wikia is a free-to-use site that makes money from advertising. We have a modified experience for viewers using ad blockers

Wikia is not accessible if you've made further modifications. Remove the custom ad blocker rule(s) and the page will load as expected.