This is a Daily Alpha Update. Developers release them every day, and this is the one for 21/01/2014 or 01/21/2014 depending on the location.
Well, ahoy to you all! Today is a little more of a minor update in comparison to yesterday's one, yet it still uses those ever needed building blocks to master our game! And, I'd just like to thank Garrick. W for his wonderful start to our Daily Alpha Update blogs.
I hear you ask, "what is the update today, James?". Well today, as I said, is certainly a little one but still adds to the content. It's the Panda3D filtering! Yes, we have implemented the little chat bar at the bottom left displaying the message you inputted. of course, we are early in development and there is still a lot to do with it. However I assure you, tomorrow is a lot more exciting, fellow pirates!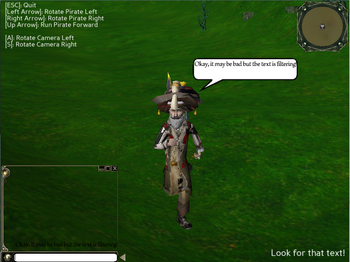 Downloads: Make your life easier and just run the installer! Click Here!
OR:
Once downloaded, in the area where you have downloaded, click on the shortcut sign. Make sure that the location says that it is going to wherever you placed it/game. It automatically comes up with C:/Barbossa_Grotto/game, so make sure it is pointing in the right direction!
To download, click Here!
Fixes:
Newly Added:
Look through that Spyglass in the Crows Nest for some more alpha updates!
Ad blocker interference detected!
Wikia is a free-to-use site that makes money from advertising. We have a modified experience for viewers using ad blockers

Wikia is not accessible if you've made further modifications. Remove the custom ad blocker rule(s) and the page will load as expected.