This is a Daily Alpha Update. Developers release them every day, and this is the one for 17/01/2014 or 01/17/2014 depending on the location.
Well, today is a little happier as, contrary to previous updates, you pirates fans can now certainly run our updates, using the installer! And this will continue for our every update until the release! So not to fear, yer Pirates Online Rewritten update is here! Now to move on to the update. It's Friday, and has been quite a random week. Well at least I'd say going from islands to running around in jail is quite random... you may not believe me.
Anyway, what was I saying... ah yes, the update. Today's update is the raw interior of Devil's Anvil. I know what you're thinking, Devil's Anvil is too easy! I can disprove you. Try to shoot the Undead Monkey in this place, and I can guarantee you'll fail. Well let's see, what did Pirates of the Caribbean Online have? A monkey that can die? Nonsense. Indeed, I am talking about Barbossa's Grotto: home of Barbossa and that Flintlock pistol he gives out. You can also purchase some garb here at the PvP Infamy Rewards area.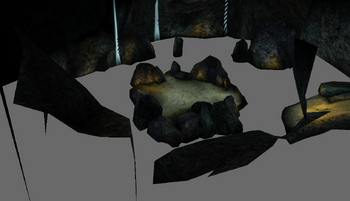 Downloads: Make your life easier and just run the installer! Click Here!
OR:
Once downloaded, in the area where you have downloaded, click on the shortcut sign. Make sure that the location says that it is going to wherever you placed it/game. It automatically comes up with C:/Barbossa_Grotto/game, so make sure it is pointing in the right direction!
To download, click Here!
Fixes:
Newly Added:
Look through that Spyglass in the Crows Nest for some more alpha updates!
Ad blocker interference detected!
Wikia is a free-to-use site that makes money from advertising. We have a modified experience for viewers using ad blockers

Wikia is not accessible if you've made further modifications. Remove the custom ad blocker rule(s) and the page will load as expected.