This is a Daily Alpha Update. Developers release them every day, and this is the one for 24/01/2014 or 01/24/2014 depending on the location.
You can call it what you want: Server, part 2, the mighty project or the mad Gleaming blog... maybe not the third, I'm too nice to be mad! And so are you, mateys!
On the lead up to Savvy Saturday, I thought, give 'em a treat! Well I just wanted a bigger surprise tomorrow, because let me tell you this, it will be the BIGGEST update yet! Anyway to move on. Again, it is a small but big update. Two pieces of wonderful news: if things go our way, we could be having four servers due to the most generous people. Our second piece of news is this, developers: you can connect to the server! Just talk to Tomislav98 on our Chat and download! You know when someone becomes connected because, guess what? It displays "SOMEONE CONNECTED"! So today is a day to certainly celebrate, but be ready for tomorrow's awesomely awesome surprise! We even have a little shot of today...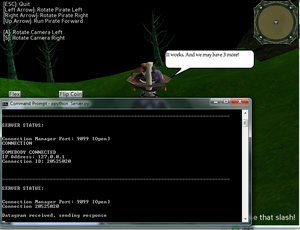 Look through that Spyglass in the Crows Nest for some more alpha updates!
Ad blocker interference detected!
Wikia is a free-to-use site that makes money from advertising. We have a modified experience for viewers using ad blockers

Wikia is not accessible if you've made further modifications. Remove the custom ad blocker rule(s) and the page will load as expected.