This is a Daily Alpha Update. Developers release them every day, and this is the one for 15/01/2014 or 01/15/2014 depending on the location.
'Ello mates. Today brings you a mysteriously bad place that you don't want to be (especially with a Royal Guard there). It's found everywhere, but many a pirate fears it, and quite right so. You can just kick your way out and remain groggy, or stay out and fight the best you can! Anyway, it's quite a simple building, but effective for strangling a pirate's mind set.
Aye, we be talking about jail! Let's just say it's a matter of leverage... kick your way out and go back to loot, plunder and pillage. Or just go afk (away from keyboard) and look as if it was because of that. This was one of our features when we did an alpha update with Unity, but that turned out to be a little unsuccessful.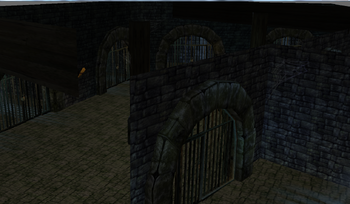 Downloads: Once downloaded, in the area where you have downloaded, click on the shortcut sign. Make sure that the location says that it is going to wherever you placed it/game. It automatically comes up with C:/Jail/game, so make sure it is pointing in the right direction!
To download, click Here!
OR:
Make your life easier and just run the installer! Click Here!
Fixes:
Newly Added:
Jail! Aww, how dare you do that Pirates Online Rewritten!
Installer to make your life easy
Look through that Spyglass in the Crows Nest for some more alpha updates!
Ad blocker interference detected!
Wikia is a free-to-use site that makes money from advertising. We have a modified experience for viewers using ad blockers

Wikia is not accessible if you've made further modifications. Remove the custom ad blocker rule(s) and the page will load as expected.