This is a Daily Alpha Update. Developers release them every day, and this is the one for 13/01/2014 or 01/13/2014 depending on the location.
Savvy Saturday saw our (quite probably) biggest update yet. And you thought it couldn't be beaten! Now I was thinking of moving this to Saturday, but our next one is too good for this one. So now I bet you're wondering what the update is today? Well I can tell you it is like Saturday, but I suspect some of you don't want to be a female in game? Now your worries are over; we have a male pirate, and he looks even more clothed up than ever!
Yes, today is the turn of the male pirate. Unlike our lady pirate that danced wacky on Saturday, the male doesn't wear Constance Sorrow's dress that you can see. He looks more manly, and has rings on every of his fingers! You can do everything the same, but just make it a lot more manly! So now we have both genders, and what's next? Well let that remain a mystery... for now.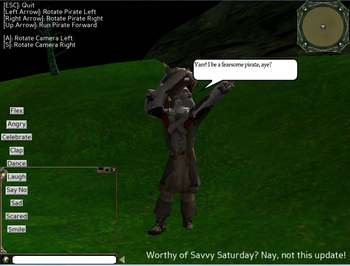 Downloads: Once downloaded, in the area where you have downloaded, click on the shortcut sign. Make sure that the location says that it is going to wherever you placed it/game. It automatically comes up with C:/Male/game, so make sure it is pointing in the right direction!
To download, click Here!
Fixes:
Newly Added:
A fierce, male pirate! Arrr!
Look through that Spyglass in the Crows Nest for some more alpha updates!
Ad blocker interference detected!
Wikia is a free-to-use site that makes money from advertising. We have a modified experience for viewers using ad blockers

Wikia is not accessible if you've made further modifications. Remove the custom ad blocker rule(s) and the page will load as expected.