This is a Daily Alpha Update. Developers release them every day, and this is the one for 08/01/2014 or 01/08/2014 depending on the location.
Now, I be hearing ye don't know the meaning of a 'proper' island. I'm afraid we won't be seeing any better of the description than this one mates. I'd like ye all to think of the perfect description for an island. Say it to the blog, and we will redeem it by giving you the picture of the island. Legend tells us that Sparrow escaped strapping Sea Turtles from this island itself. Legend tells me that yer getting bored with these islands!
Welcome to Rumrunner's Isle. Home of the famous rum cellar, where the rumrunners used to store their rum. So how many times can you say rum in one sentence? Rumrunner's Isle certainly must feature in it! So, we've had some famous faces visit this isle, including Cap'n Jack, Mrs Turner, and... you! Yes, explore the island in wonderful fashion, but be sure you don't get marooned there!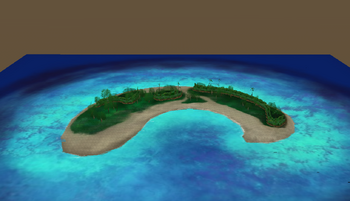 Downloads: Once downloaded, in the area where you have downloaded, click on the shortcut sign. Make sure that the location says that it is going to wherever you placed it/game. It automatically comes up with C:/Rumrunners/game, so make sure it is pointing in the right direction!
To download, click Here!
Fixes:
Newly Added:
Look through that Spyglass in the Crows Nest for some more alpha updates!
Ad blocker interference detected!
Wikia is a free-to-use site that makes money from advertising. We have a modified experience for viewers using ad blockers

Wikia is not accessible if you've made further modifications. Remove the custom ad blocker rule(s) and the page will load as expected.