This is a Daily Alpha Update. Developers release them every day, and this is the one for 29/11/2013
A ship doesn't just have a side and back. There's the beautiful hull to see, the angelic figure at the front and best of all, the dooming black sails of the ship
You can now leisurely explore the ship by holding down the right mouse button and dragging. What's more is, you can also get a hint below the ship for what's coming soon... broadsides! so why's there a need to wait? Click that download button and explore the Pearl fully herself!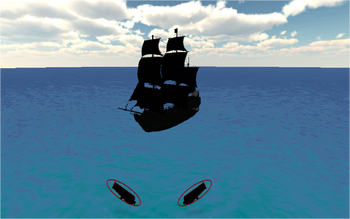 Downloads:
Fixes:
Newly Added:
Broadside hints
Right click and drag to view it fully
Look through that Spyglass in the Crows Nest for some more alpha updates!
Ad blocker interference detected!
Wikia is a free-to-use site that makes money from advertising. We have a modified experience for viewers using ad blockers

Wikia is not accessible if you've made further modifications. Remove the custom ad blocker rule(s) and the page will load as expected.