This is a Daily Alpha Update. Developers release them every day, and this is the one for 29/01/2014 or 01/29/2014 depending on the location.
I've started to become a little lost for names of the week. So I'm afraid there'll be no alliteration today! However, I can tell you what there is... more content! Wow, Pirates Online Rewritten doing more content? That can't be true! Yes, our traditions speak that you guys have to be happy every day, so why not cheer up your day with a little Navy deleting! Navy deleting? That was yesterday for Cannon Defense! Yes it was, but remember this mates: it isn't just about Tortuga, there be others too, savvy? Even though today may not be the Fort Charles or Fort Dundee scene, it gives you a little idea for the days to come, aye? So what is it, Jack?
And Jack responds to the question. We've released an animated flag, waving the Navy name across the Caribbean! You don't want that, do you? Or do you? The true pirate will certainly say no way! They would fight the navy ships and they will victor! They don't want to be hanged by some ruthless army against us Pirates! Choose yer side, get some rams and keep up that pirate spirit! A true pirate never fails! A true pirate is the victor. You are the true pirate mate, and we are going to bring you back that experience, mark our words! Sorry about that dream speech, now to move to the picture. Again, our apologies for the lack of downloads, but we assure you, it is happening and we are making progress, mateys!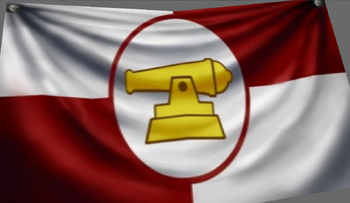 Downloads: Sorry! No downloads today nor for the next few days. Be sure to keep checking what we're doing, though!
Fixes:
Newly Added:
Cannon Defense - FLAG MODEL
Look through that Spyglass in the Crows Nest for some more alpha updates updates!
Ad blocker interference detected!
Wikia is a free-to-use site that makes money from advertising. We have a modified experience for viewers using ad blockers

Wikia is not accessible if you've made further modifications. Remove the custom ad blocker rule(s) and the page will load as expected.