This is a Daily Alpha Update. Developers release them every day, and this is the one for 28/01/2014 or 01/28/2014 depending on the location.
Savvy Saturday, Major Monday and today, you ask? Treasure Tuesday. Although I must admit that today does not stand up that much to other days, but still, I bet you're all still looking around Port Royal and Tortuga... that should keep you happy for a few days, at least. If not, who among you scallywags like cannon rams? Who likes sinking the wretched Navy? Or who just likes getting to a really high wave? Who now doesn't have a guess to today's update? Some of you? Alright, let's keep the tension going and move to another subject... just joking! Find out the update by reading the paragraph below!
Today, being Treasure Tuesday, brings some treasure. But you need to defend your treasure at the mini-game of Cannon Defense! My apologies, mates, but I only have some models for ye for Cannon Defense. In fact, it's been prepared for a few days so it may be wretched week, but don't worry - next week is wonderful week, so I want to see your mouth pointing upwards everyone! Have a Savvy week and be prepared for some more updates tomorrow! Also, remember that I'm not the only person who releases updates. Check out what are developers are doing around the wiki and stay savvy!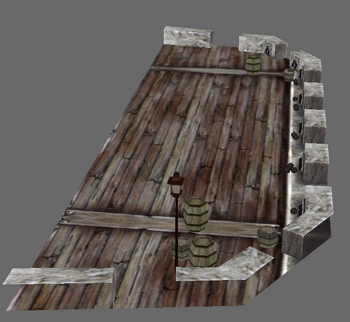 Downloads: Sorry! No downloads today nor for the next few days. Be sure to keep checking what we're doing, though!
Fixes:
Newly Added:
Cannon Defense - TORTUGA MODEL
Look through that Spyglass in the Crows Nest for some more alpha updates updates!
Ad blocker interference detected!
Wikia is a free-to-use site that makes money from advertising. We have a modified experience for viewers using ad blockers

Wikia is not accessible if you've made further modifications. Remove the custom ad blocker rule(s) and the page will load as expected.