This is a Daily Alpha Update. Developers release them every day, and this is the one for 12/02/2014 or 02/12/2014 depending on the location.
Oh my, pirates. Today is a really busy day, also known as "The Busiest Day" for all pirates, including the team at Pirates Online Rewritten! We are all just busting in with business to do whatever we need to do. Oh my!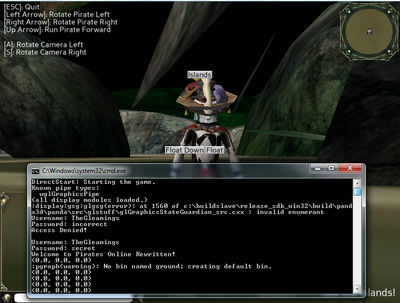 This nightmare, which is "The Busiest Day" almost broke the update's arrival, but I made sure it didn't. All the nightmare did was give another post delay (wow, 3 post delays in a row), sorry! At least this is no curse from Jolly Roger, but a nightmare (worst nightmare!) is still worse as it is right now!
No biggie, just enjoy a relaxed Pirates Online Rewritten alpha update and I am sure, we won't get these creeps ever again. I hope.

Downloads: Sorry mates, but Wikia has blocked these type of links because some of these type of links give viruses. However, our links to download updates should not give you a virus. I cannot provide the download links on this blog.
Fixes:
None detected
Newly Added:
Little Coding for upcoming Launcher
Ad blocker interference detected!
Wikia is a free-to-use site that makes money from advertising. We have a modified experience for viewers using ad blockers

Wikia is not accessible if you've made further modifications. Remove the custom ad blocker rule(s) and the page will load as expected.