This is a Daily Alpha Update. Developers release them every day, and this is the one for 11/12/2013 or 12/11/13 depending on location.
Now you may know what an island is; I personally think this is the best description that you'll ever find: green land, a beach and surrounded by sea. Then you get the picture in the head.
Aye, it be Driftwood Island! Home of the wreck that is the lost ship, not lost sword (ahh, bringing back those wonderful memories). Anyway, make sure you aren't there too long, and call out for help if yer ship sinks... I'm telling ye, you won't find sea turtles nearby! Anyway, let's have a look at what we have, then.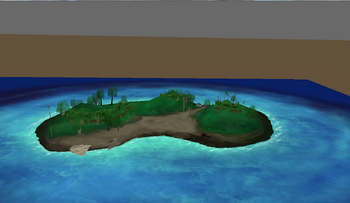 Downloads:
Talk to Dylan9971 if you are a developer. If not, still keep a witty eye for those alpha key giveaways!
Fixes:
Newly Added:
Look through that Spyglass in the Crows Nest for some more alpha updates!
Ad blocker interference detected!
Wikia is a free-to-use site that makes money from advertising. We have a modified experience for viewers using ad blockers

Wikia is not accessible if you've made further modifications. Remove the custom ad blocker rule(s) and the page will load as expected.