This is a Daily Alpha Update. Developers release them every day, and this is the one for 08/12/2013
Let's look through the list... Spanish, Spanish, Spanish and more Spanish. New week, so a new change... welcome to Isla Cangrejos!
Jacques is on his way, so ye better leave or have the gut to stay and fight; he's a hard guy, mark my words. Anyway, explore the wonderful land of French pirates and undead mutineers, but do try to be friendly. I'm afraid in Pirates Online Rewritten we're still not nice when it comes to how hard the game is, otherwise it wouldn't be a game, eh? Alright, I better stop talking now. Here's the picture: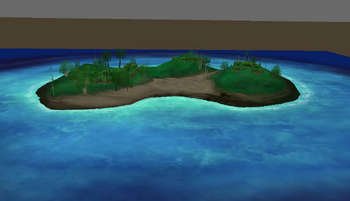 Downloads:
If yesterday worked for you, click Here. If not, it's been fixed for Tuesday. Sorry for the inconvenience!
Fixes:
Newly Added:
Isla Cangrejos and the surrounding sea
Look through that Spyglass in the Crows Nest for some more alpha updates!
Ad blocker interference detected!
Wikia is a free-to-use site that makes money from advertising. We have a modified experience for viewers using ad blockers

Wikia is not accessible if you've made further modifications. Remove the custom ad blocker rule(s) and the page will load as expected.