This is a Daily Alpha Update. Developers release them every day, and this is the one for 13/02/2014 or 02/13/2014 depending on the location.
Truth is yet again to be told, we have have a couple o' late posts. But we have been posting the updates, be that not what matters, mateys? Anyway, we've seen some nice updates for those times - a little draft of what's to come in terms of a launcher, and are we having some buildings? Of course we are!
Today's update can be summed up in a few words: dancing all over the Caribbean! That's all, time for the groovy picture!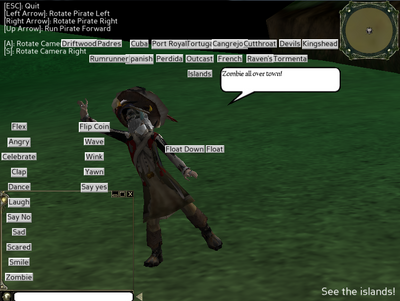 Downloads: Sorry! No downloads. Be sure to keep checking what we're doing, though!
Fixes:
Newly Added:
Zombie dance on all islands!
Look through that Spyglass in the Crows Nest for some more alpha updates updates!
Ad blocker interference detected!
Wikia is a free-to-use site that makes money from advertising. We have a modified experience for viewers using ad blockers

Wikia is not accessible if you've made further modifications. Remove the custom ad blocker rule(s) and the page will load as expected.