This is a Savvy Saturday Update. Developers release them every Saturday, and this is the one for 08/02/2014 or 02/08/2014 depending on the location.
Two weeks ago, you guys saw the release of someone walking on an actual island that will be in Pirates Online Rewritten. Not so long after that, you saw Port Royal come back. A week ago, you woke up to read the release of Raven's Cove! So, which island is it today? You're already wrong with that. It's islands. Okay then, which 2 islands are you releasing today? Wrong again! Today gives you not 3, not 4, but EVERY island that Pirates of the Caribbean Online had and Pirates Online Rewritten is to have!
So what's that got to do with this title? It has nothing to do with today. Well, actually it does. A picture tells 1000 words, so let's just go to the picture!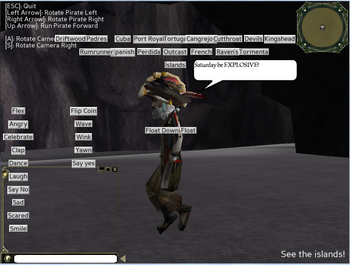 Downloads: Sorry! No more downloads!
Fixes:
Newly Added:
Look through that Spyglass in the Crows Nest for some more alpha updates and Savvy Saturday updates!
Ad blocker interference detected!
Wikia is a free-to-use site that makes money from advertising. We have a modified experience for viewers using ad blockers

Wikia is not accessible if you've made further modifications. Remove the custom ad blocker rule(s) and the page will load as expected.