This is a Savvy Saturday Update. Developers release them every Saturday, and this is the one for 25/01/2014 or 01/25/2014 depending on the location.
Avast, landlubbers and former pirates! I know I say this a lot, but this update is the BIGGEST and BEST one to date. Because you will see this during the game from this perspective, but yes a little more finished, aye? Anyway, so I bet you're already on the floor with your eyes glued to your computer eager to know what the update is. So to hold your tension, let's talk about something else. Just joking! We'll move the topic onto Tortuga. A long time ago the very piratey island was showcased to you pirates, and it was probably the most piratey island that all pirates could think of being a pirate-like piratey island. Yes, Tortuga.
Tortuga? You already did this update, TheGleamings! No I didn't. That was just for you to look at. Now you can run around, float in it and more! Okay, buildings aren't here yet, but I assure you, they will be readily available soon! So never afear, Pirates Online Rewritten is coming here! And today certainly proves that fact. Now enough blabbering on James, time to get to the good bit - Picture and downloads!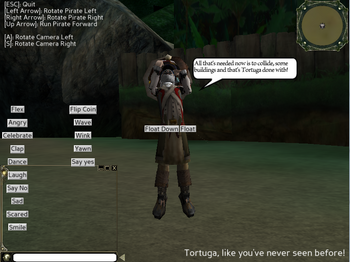 Downloads: Make your life easier and just run the installer! Click Here!
OR:
Once downloaded, in the area where you have downloaded, click on the shortcut sign. Make sure that the location says that it is going to wherever you placed it/game. It automatically comes up with C:/Players/game, so make sure it is pointing in the right direction!
To download, click Here!
Fixes:
Newly Added:
Look through that Spyglass in the Crows Nest for some more alpha updates and Savvy Saturday updates!
Ad blocker interference detected!
Wikia is a free-to-use site that makes money from advertising. We have a modified experience for viewers using ad blockers

Wikia is not accessible if you've made further modifications. Remove the custom ad blocker rule(s) and the page will load as expected.