This is a Daily Alpha Update. Developers release them every day and this is the one for 18/02/2014 or 02/18/2014 depending on the location.
This is it, pirates. I am excited to announce something. Get out the popcorn and drinks, and get ready to hear this! As happy it makes to say it... we are now taking a break from walking and start jumping!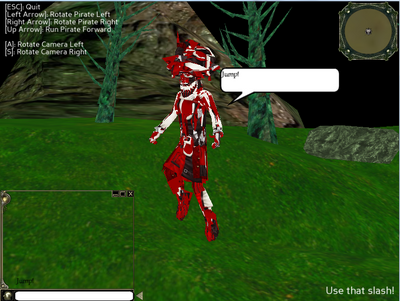 Aye, we can now jump by pressing the Space bar, instead of just walking! Whew, that was a fine announcement, wasn't it? But wait, there's more! The Valentine's Day texture on the pirate has returned for the fun of jumping. I am not surprised by that, but you will be in that good ol' texture for 3 days. 3 days? That's because it won't be here tomorrow.
Although, what can I say? One of my favorite activities IS jumping! Well, jumping like a pirate, of course. I love the feel of jumping around and perhaps, even fight enemies like the Royal Navy, EITC, Ghosts, and Jolly Roger's Undead Army while doing that. Before I go hyper on for some jumping, I have other activities that I love to do. That is my patience.
Go ahead, you savvy pirates, start showing off your jumping skills to others. However, you must remember: don't go jumping around into spiky cactuses and big mountains, because that's where they are on this land that you'll be starting to jump on. No pirate should get injured! (Sometimes, but not always).

Downloads: Sorry mates, but Wikia has blocked these type of links because some of these type of links give viruses. However, our links to download updates should not give you a virus. I cannot provide the download links on this blog.
Fixes:
None detected
Newly Added
Ad blocker interference detected!
Wikia is a free-to-use site that makes money from advertising. We have a modified experience for viewers using ad blockers

Wikia is not accessible if you've made further modifications. Remove the custom ad blocker rule(s) and the page will load as expected.